You might spend top dollar for fancy new graphics card hardware, but one of the key components to gaming performance is actually software. While the brute force of the hardware gets most of the glory (and is indeed essential), the software side is the magic that pieces it together. Without good software, even the ferocious Nvidia GeForce RTX 4090 is reduced to a fancy paperweight—especially when running Cyberpunk 2077's glorious new path traced Overdrive mode. 
Software can also substantially improve the hardware performance. Enter Nvidia's DLSS 3.0, or Deep Learning Super Sampling. Including both AI-powered frame generation and Nvidia's wondrous latency-reducing Reflex technology, DLSS 3.0 makes for a potent recipe. 
This isn't the same old DLSS upsampling you're used to, however. We're going to go over some basics of what DLSS 3.0 is, and its application to Nvidia's RTX 40-series GPUs. We'll let you know how to use this feature, and tell you about optimal settings on some popular supported games. Let's get cracking.
Further reading: The best graphics cards for PC gaming
How does DLSS 3 work?
DLSS 3 greatly accelerates gaming frame rates using a mixture of AI tasks running on dedicated tensor cores. It has three components that make it tick. 
Super Resolution (a.k.a. DLSS 2)
Also known as super sampling, DLSS 3's core "upscaler" functionality is actually the DLSS 2 technology already integrated into countless games. DLSS renders game imagery at a lower resolution than your monitor runs at to increase raw gaming frame rates, then uses AI tensor cores to reconfigure the image with machine learning so that it looks sharp on your screen. This bypasses the performance penalty that your higher resolution would impose, while keeping graphics fidelity high. 
Frame generation
The novel element to DLSS 3 is in the "Optical Multiframe Generation" AI technology. After analyzing two images from a game back-to-back, DLSS 3 uses this information to insert an extra AI-created frame that does not have to be rendered by the game itself. This result is in even higher frame rates than standard DLSS 2. It can also help dramatically increase the smoothness in CPU bottlenecked games. 
Nvidia Reflex low latency
The third piece of the puzzle is in Nvidia's Reflex technology. Frame generation is not free. Those AI-generated frames aren't controlled by the player, since the game isn't rendering them, so it can actually add latency (read: reduce responsiveness) in games. To combat this, Nvidia Reflex helps harmonize the GPU and CPU so that latency is reduced. It helps to bypass the traditional bottlenecks presented by both the GPU and CPU by deeper integration into the game engine itself. Reflex was created years ago to improve performance in esports games to amazing effect, but Nvidia now requires it in games that support DLSS 3.
Speaking of…  
What do you need to run DLSS 3?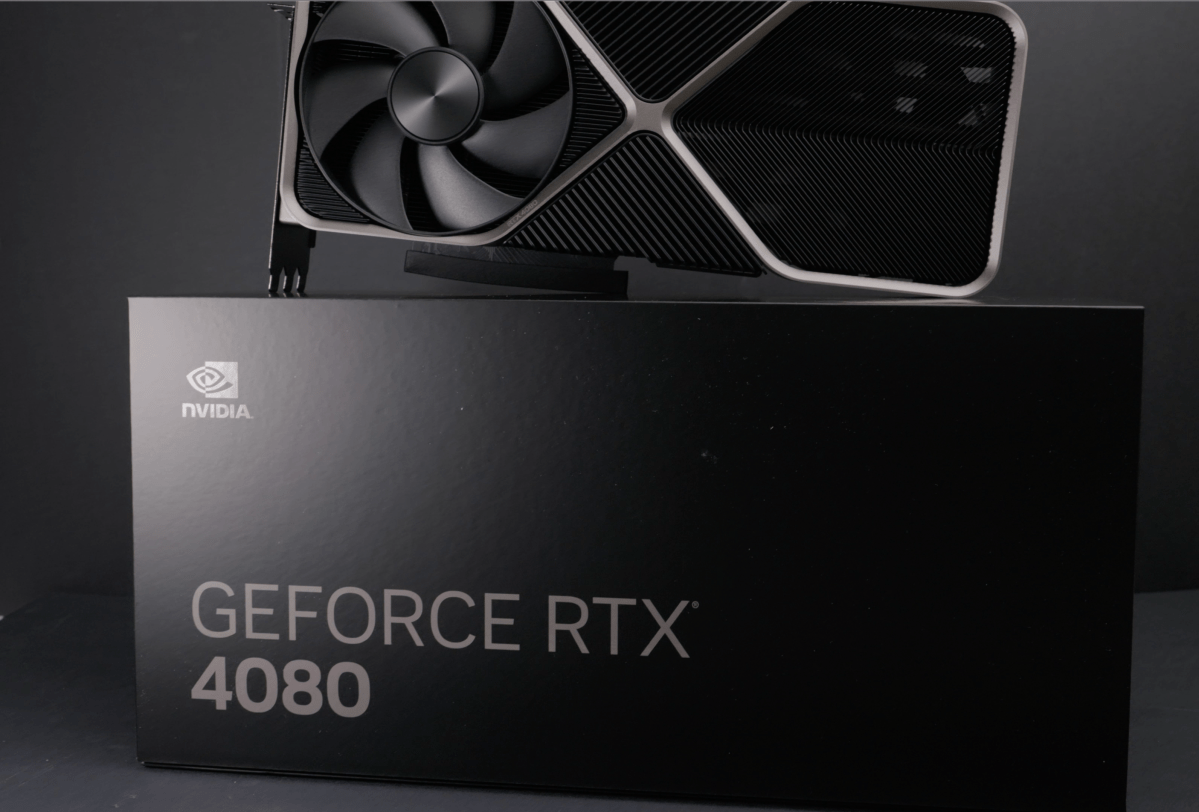 Thiago Trevisan
An RTX 40-series graphics card
DLSS 3 is exclusive to Nvidia's "Ada Lovelace" RTX 40-series graphics cards. It is available for both desktop and laptop offerings, but not any RTX 30-series or prior GPUs. 
Nvidia says that's because the new Lovelace GPU architecture includes more powerful AI tensor cores and, more critically, a new "Optical Flow Accelerator" that provides scene movement info critical to creating those AI frames. Performance on RTX 30 or older GPUs would not provide a good experience, so for now this technology is limited to the more powerful hardware. Currently, four RTX 40-series graphics cards are available that meet those requirements:
DLSS 3 is not supported on rival AMD Radeon or Intel Arc graphics cards.
Certain Windows settings need to be active
You'll also need to turn on "Hardware Accelerated GPU" in your Windows display settings.
Certain in-game settings need to be active
Only specific games directly support DLSS 3. You'll have to turn on "Frame Generation" settings after activating DLSS upscaling. This will also necessitate "Nvidia Reflex" being turned on, and most (but not all) games will do this by default. You'll further have the option to set Reflex to additional "Boost." 
Supported DLSS 3 games
There are currently over 25 games that are playable now, with many more coming. High profile titles like Cyberpunk 2077 and Forza Horizon 5 have recently received DLSS 3 updates, along with new releases such as Hogwarts Legacy. Rock Paper Shotgun maintains a helpful guide to all available and upcoming DLSS 3 games (they're after the ray traced and DLSS games in the list).
Thiago Trevisan
What are DLSS 3's drawbacks?
DLSS 3 is fantastic for increasing overall visual smoothness, but as it develops during its early days, it also has a few potential issues to be aware of. 
Latency
While Nvidia Reflex addresses a lot of DLSS 3's latency concerns, it's also not the rapid response some users may expect from esports titles. That's why DLSS 3 is better suited for single player games such as Cyberpunk 2077, Plague Tale Requiem, Microsoft Flight Simulator, etc. Even with Reflex on, DLSS 3 can play a sort of trick on your mind if you're especially sensitive to how fast frame rates and responsiveness are intertwined, as PCWorld's Brad Chacos explained during his review of the RTX 4090:
"While the DLSS 3 experience shines, it doesn't always feel more responsive in your hands. Running Cyberpunk 2077 at 138fps with every possible bell and whistle active thanks to DLSS 3 looks absolutely stunning, full stop. But one of the perks of faster frame rates is increased responsiveness, and while Reflex greatly helps with that, Cyberpunk 2077 running at 138fps doesn't feel substantially more responsive than running it at the 77fps or so it hits in native 4K. Having twice as many frames looks fantastic but those AI frames aren't responding to your controls in the actual moment, though it's close.

This is not a negative. This is not a drawback. It can't be after running Flight Sim at 120fps, and Cyberpunk 2077 with ultra ray tracing at 138fps (the RTX 3090 tops out at 48fps). But it's worth highlighting."
Visual artifacts
Most of the DLSS 3 gaming experience looks fantastic. You won't notice any visual issues or quirks. That said, there are some games that showcase some onscreen "artifacts" or abnormalities. UI elements can also not be displayed properly in some titles, all areas that are undergoing improvement. The good news is that software updates can remedy these issues as gamers age. The Hardware Unboxed deep dive embedded below does a great job of walking through DLSS 3's visual quality, including highlighting potential quirks.
Needs powerful hardware
DLSS 3 shows some of its best results on already powerful hardware, like the Nvidia RTX 4080 or 4090. It also seems to do better when it's boosting an already-okay frame rate to a higher one, such as 60 FPS to 120 FPS. Time will tell if upcoming weaker GPUs such as the RTX 4060 will still have the same impressive results, but it should be promising. 
Settings overload
Console gamers have it easy without as much customization sometimes! PC games not only have dozens of graphics settings, but it also has different levels for each one. Add to that DLSS 3, which now has its own hierarchy of graphic settings to learn.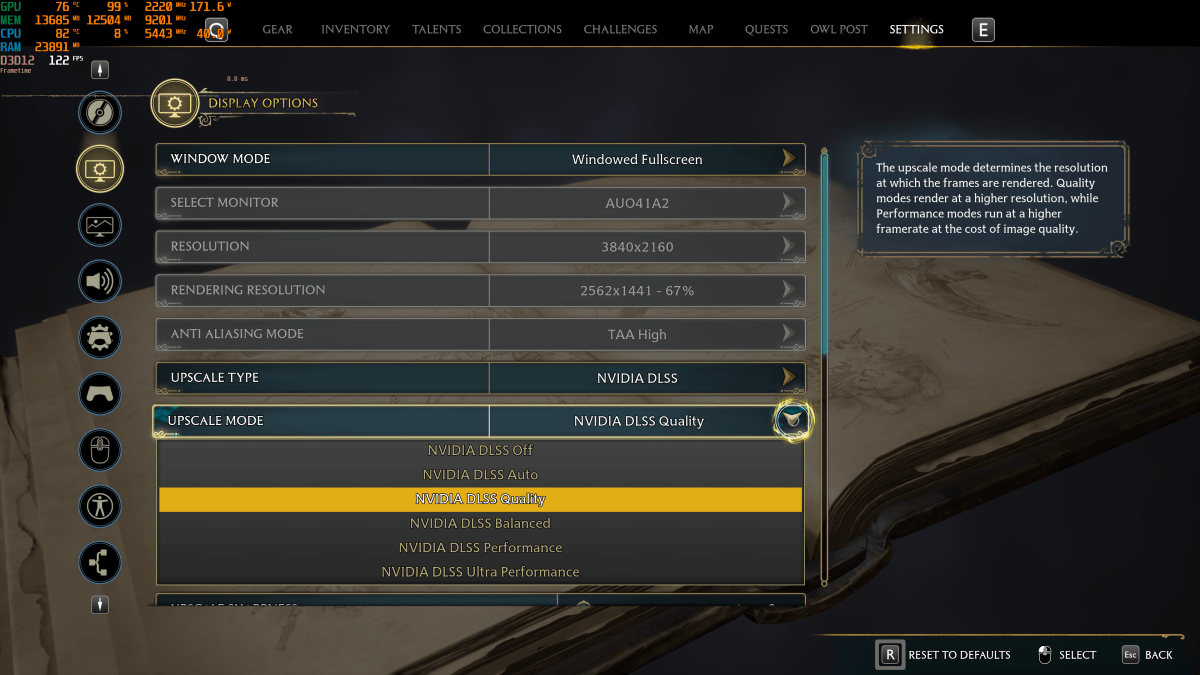 Thiago Trevisan
DLSS 3 settings explained 
Dozens more settings variations have entered the fray – making it confusing for gamers when choosing your graphics settings. After activating DLSS, Frame Generation, and Reflex, you have a few more choices to make.
DLSS feature options
DLSS Auto: This will try and keep the frames as best it can to your monitor's refresh rate
DLSS Quality: The best visual performance, with modest or not much FPS uplift 
DLSS Balanced: A good combination of higher frames and maintaining graphical fidelity. 
DLSS Performance: You'll notice somewhat less impressive visuals, but FPS frames are considerably higher. 
DLSS Ultra-performance: Better FPS, but worse visuals – typically when you really want to overreach existing hardware or to hit a specific FPS at a higher resolution. (8K Gamers, you'll want to learn this one!) 
DLSS Frame Generation: This setting will just be a simple "On or Off" toggle in your game settings. Remember, you'll need Ada Lovelace RTX 40 series GPUs to work. 
Nvidia Reflex and Boost
These are often found near DLSS options, but may be elsewhere in a video menu as well (as in Cyberpunk 2077). Nvidia Reflex will often be turned on automatically in most games with Frame Generation being active. That's not always true, however, and many games let you disable Reflex manually even when running DLSS 3 Frame Gen. (We don't recommend doing that.) You'll also have the option for a "Boost" feature in many games. Reflex Boost overclocks your GPU so it can help in CPU limited scenarios even more. 
Even more options
To make matters a bit more complicated, some games even allow you to select only Nvidia's DLAA along with Frame Generation and Reflex. Plague Tale's Requiem is one such title. DLAA basically runs DLSS at your native monitor resolution for enhanced visual sharpness and clarity. When given this option, it offers the highest possible graphical setting you can achieve, balanced out by the obvious performance cost. You can usually choose DLSS instead if the DLAA performance is too low. 
In most games, such as Hogwarts Legacy, DLAA will automatically be grayed out when you select DLSS. 
The best DLSS 3 settings
Here's how we use DLSS 3 settings in our own rigs. For the most powerful hardware, such as the RTX 4080 and 4090, DLSS Quality should keep respectable frames in most games, even at 4K, and doubly so with DLSS Frame Generation enabled.  If you prefer a bit more pep in performance, DLSS Balanced would be the next ideal step.  You can also always just set DLSS to Auto and see if you're happy with the results, as they will vary from game-to-game. 
If you have slightly less powerful hardware, such as the RTX 4070 or some mobile RTX 40 GPUs, DLSS Balanced and DLSS Performance become good settings to make sure you're hitting good frames, with the nod still going to DLSS Balanced as preferred. We'd typically recommend avoiding DLSS Ultra Performance, as it upscales from such a low resolution image that it degrades visual fidelity a noticeable amount. 
Some games are just more demanding than others, so you'll be able to judge if changes are needed, especially when adding ray tracing. 
DLSS 3: Let's play some games! 
Time to put this theory to practice. We're going to play some particularly intense games and see how DLSS 3 can help. These games were tested at 4K, generally with Ultra or similar max settings, and ray tracing on. The hardware is an MSI Titan GT77 laptop with a 4090 inside, which is similar to an RTX 3090 Ti desktop GPU in performance. 
Keep in mind that this is at 4K, so people playing at lower resolutions such as 1440p or 1080p will always see higher FPS in general. Ray tracing also substantially lowers frame rates when on, so disabling that is another way you can achieve higher numbers. The idea with DLSS 3 is that we can have our cake and eat it too! You can experience ray tracing on Ultra, then flip on DLSS 3 to achieve better performance without compromising on other visual settings. 
DLSS 3: Cyberpunk 2077
Cyberpunk 2077 has been around for a few years now, and recently it received DLSS 3 support. This game is notorious for crushing almost any GPU when ray tracing is on Ultra so it's welcomed news.
Thiago Trevisan
Let's go over how some of the settings affect the overall performance by really pushing the system. On the MSI GT77 Titan, ray tracing on Ultra without any DLSS gives us a measly 27 FPS in this portion. That frame rate is too low to actually play, so let's see how DLSS 3 can help us without having to reduce any other graphics settings.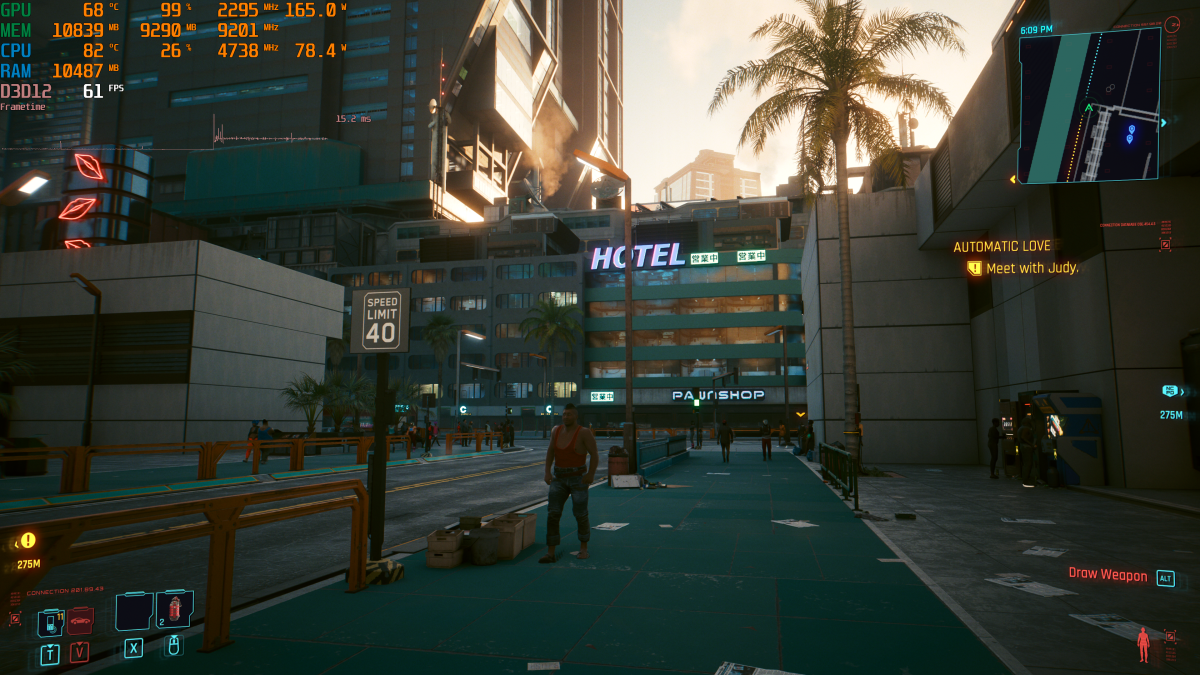 Thiago Trevisan
Next, let's turn on DLSS to Balanced, but without switching on Frame Generation or Nvidia Reflex. Our frame rate jumps to 61, a much better result. The game still looks great and behaves much smoother with this extra FPS boost.
Our next option will have us once again setting DLSS to Balanced, but this time we're also going to turn on Frame Generation in the menu. Nvidia Reflex, on the adjacent "Video" menu, will also be on. The result here is substantially better—a whopping 87 FPS. Remember that we started with just 27 FPS before turning on any DLSS features. 
How does it play with DLSS 3 Frame Gen active? Quite well, actually. It feels superior in every way to native rendering, or with just regular DLSS on. The game play is smooth, and no glaringly obvious artifacts or issues present themselves. (They can still happen, however, such as UI elements being a bit quirky at times.) 
The only downside here is that you're increasing latency, which is somewhat by Nvidia Reflex. The latency in this game is acceptable, as it's mostly a single player game where you're exploring and occasionally engaging in faster scenes. 
A faster paced game, such as an online multiplayer esports title, is not an ideal match for DLSS 3 due to this latency factor.  In Cyberpunk 2077, it works beautifully. You can also turn on Frame Generation and Reflex without DLSS, giving you FPS of around 47, but here the greater benefit seems to be pairing it with DLSS so you can achieve maximum frame rates.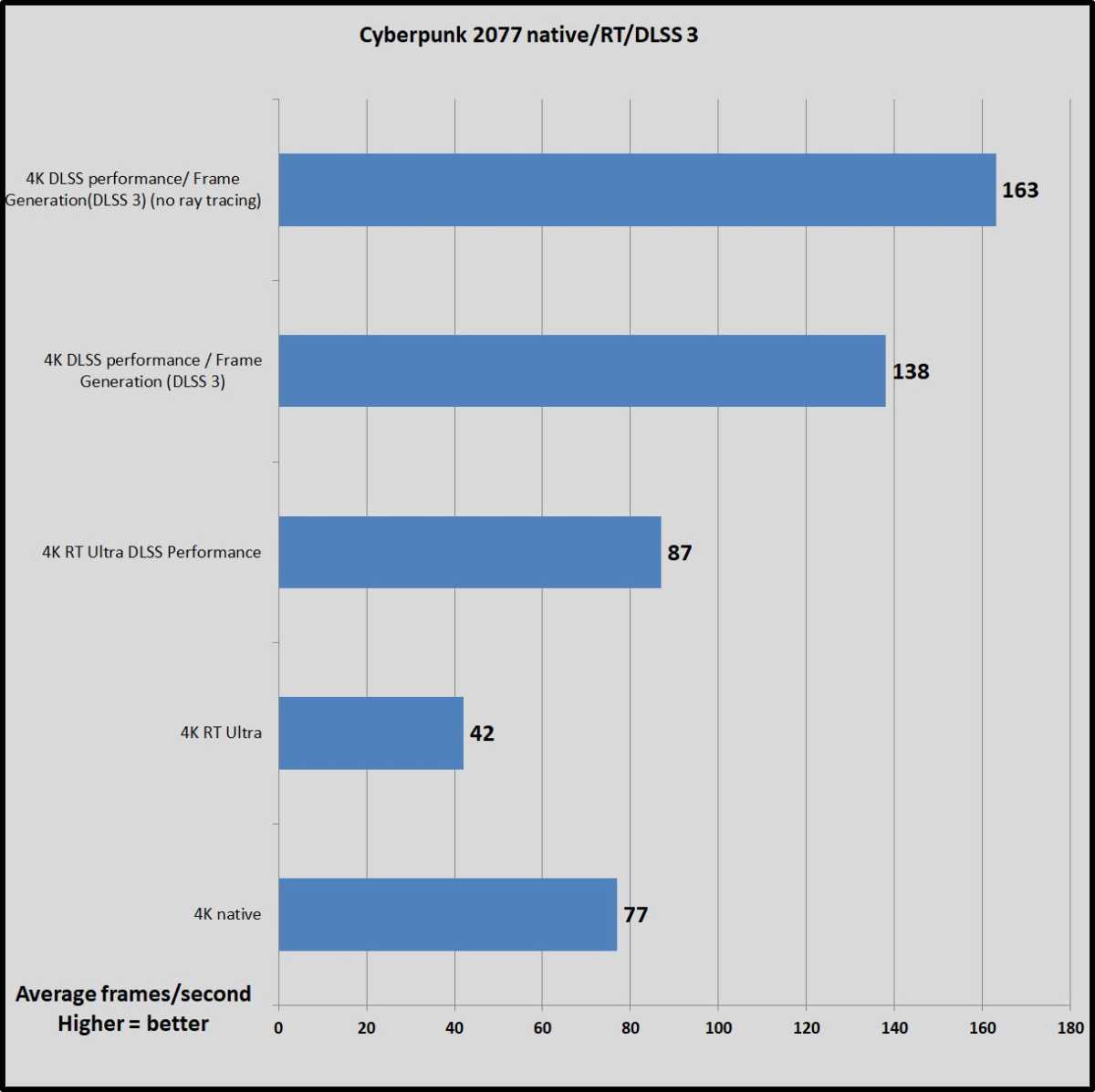 Brad Chacos
In Brad Chacos' RTX 4090 desktop GPU review, we can see that even this ferocious flagship gets massive help from DLSS 3. Playing it at 4K resolution with ray tracing at Ultra pins the game to 42 FPS, but DLSS performance with Frame Generation brings it to 138 FPS. These are staggering numbers—with ray tracing still on!
DLSS 3: Hitman 3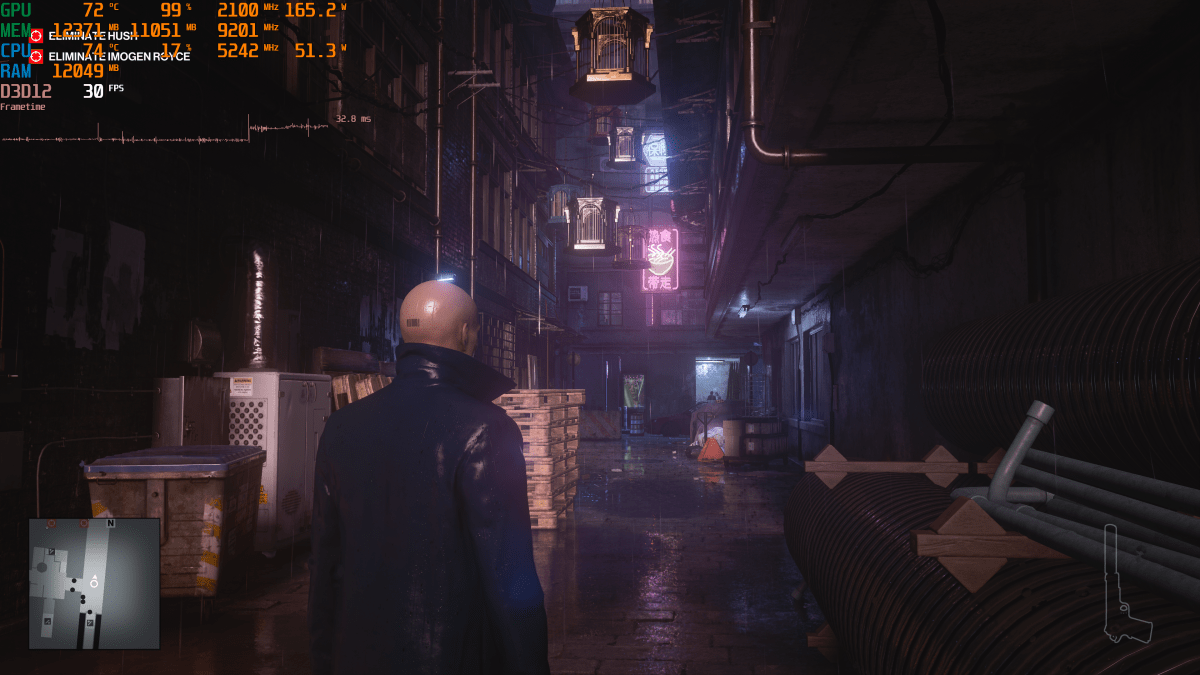 Thiago Trevisan
Hitman 3 is a popular game that also taxes systems quite heavily. With ray tracing on and DLSS off, this scene gave us only around 30 FPS at maxed-out 4K settings. This game is much like Cyberpunk 2077, in the sense that it's a slower paced style game, so DLSS 3 can be a big help here.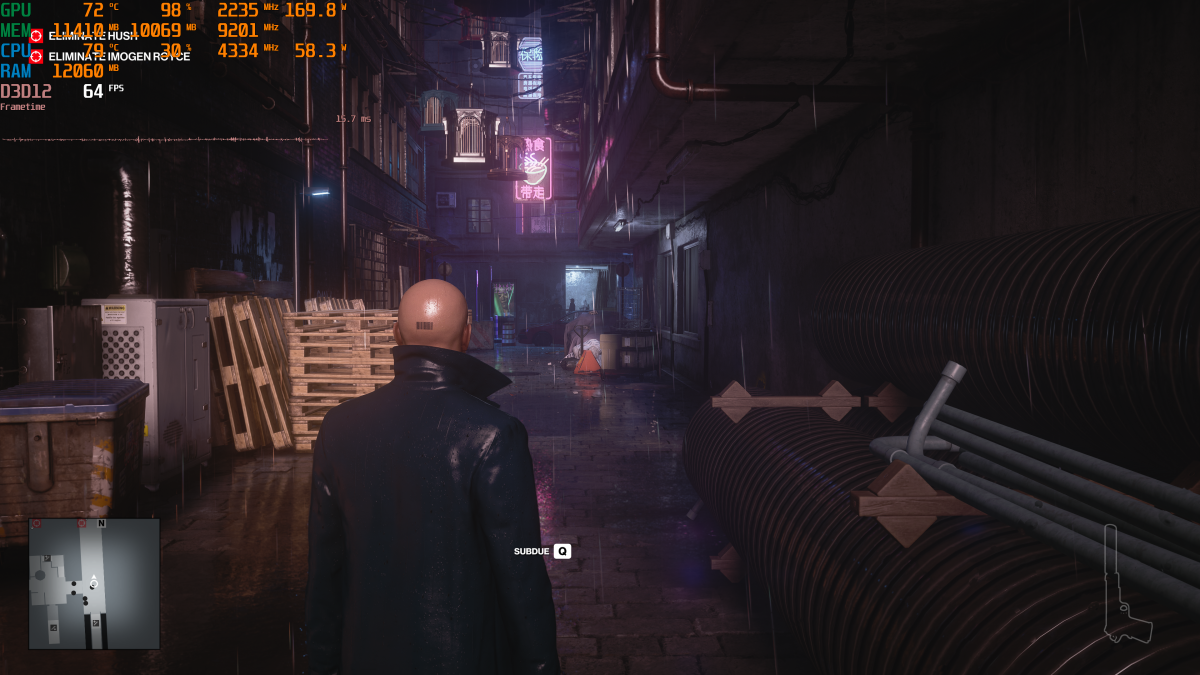 Thiago Trevisan
Switching DLSS on to Balanced, but keeping Frame Generation Off, wielded 64 FPS. That's surely a significant boost, and makes the game feel tremendously more playable and smooth.
Thiago Trevisan
Finally, switching DLSS to Balanced, but turning on both Frame Generation and Reflex, give us truly impressive results. We're now around 91 FPS, a big leap from the original 30 FPS without DLSS 3. The game feels much smoother, and behaves very well. It's difficult to even notice the DLSS process occurring unless you're pixel-peeping for it.
Like with the other games, latency will also be increased, and helped with Nvidia Reflex. This title is one that benefits much more from the higher FPS and better performance, and any additional latency is not very noticeable. You can also select only Frame generation and Reflex without DLSS, giving you around 50 FPS. We'd still recommend going all the way with DLSS Quality or Balanced however, so you get all of the combined DLSS 3 benefits. 
DLSS 3: Hogwarts Legacy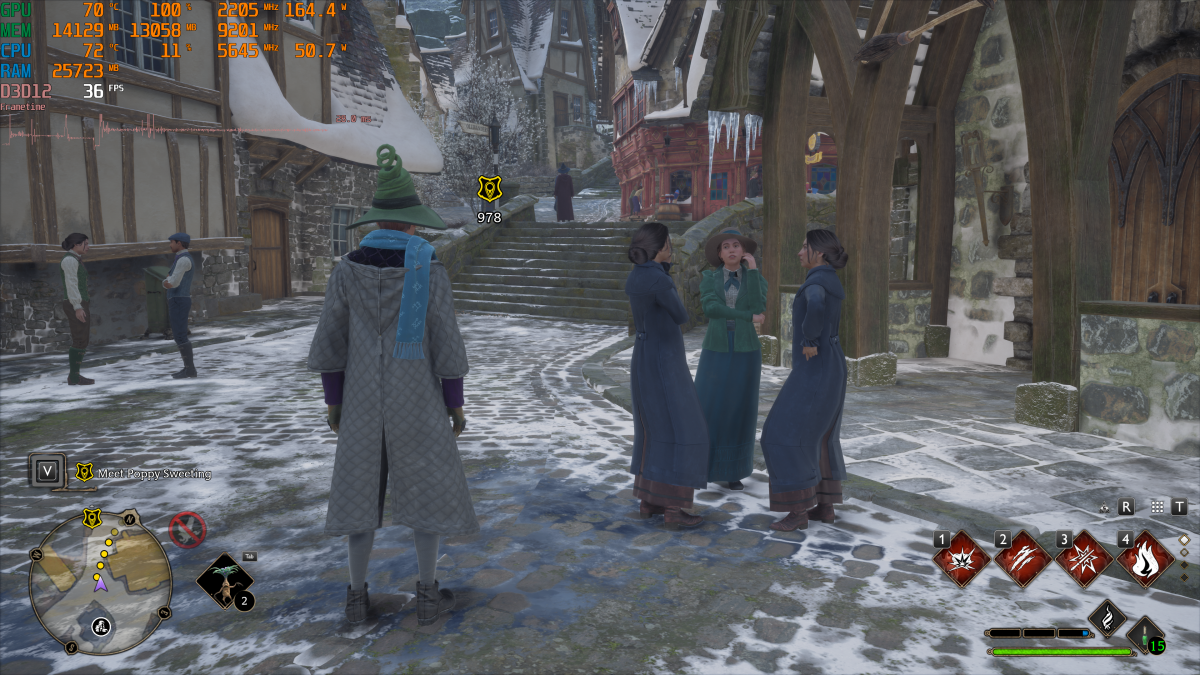 Thiago Trevisan
Continuing the trend of highly taxing ray traced titles, we arrive at Hogwarts Legacy. Without any DLSS, and when set to Nvidia DLAA, this scene in Hogmeade netted us only 36 FPS at 4K. Ick. Ray tracing and all settings are set to Ultra.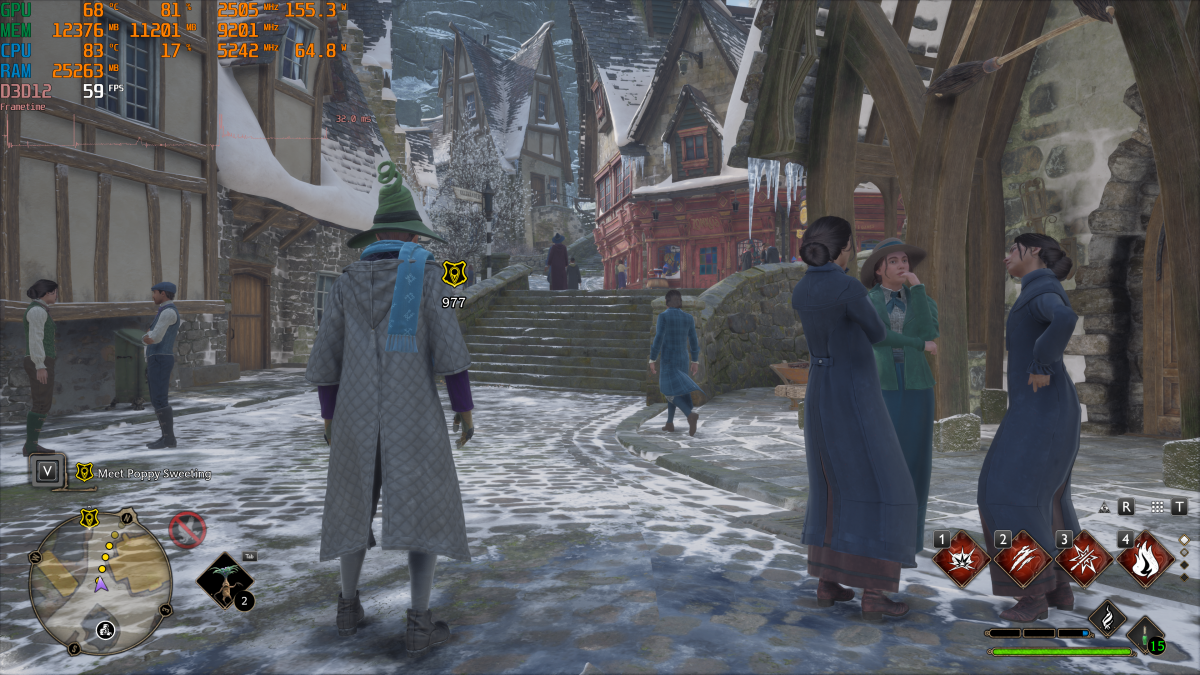 Thiago Trevisan
We see better results with DLSS set to Balanced, with frame rates hitting around 59. The game feels much better already, and even the frame rate time seems more consistent. (You can also turn on just Frame Generation without DLSS, getting around 56 FPS, but your latency will also increase more that way, so better to pair it with DLSS.)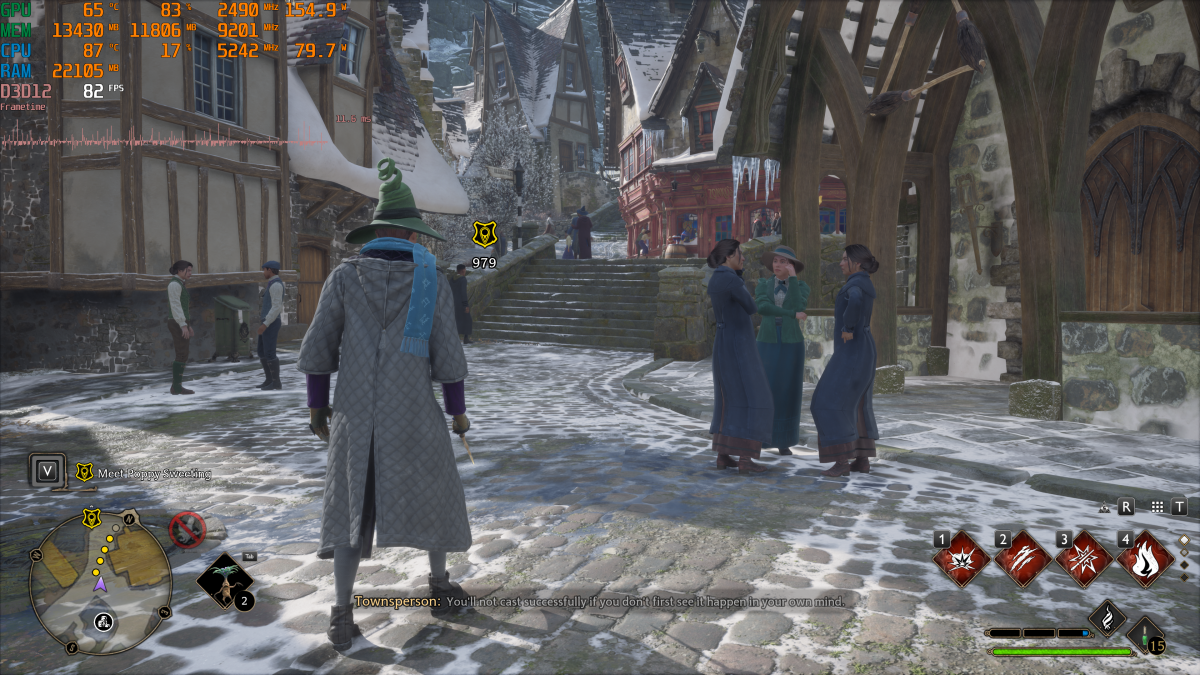 Thiago Trevisan
DLSS Balanced alongside Frame Generation and Reflex give us 82 FPS, a huge boost from the 36 FPS we first saw. The game plays considerably better, with much more consistent and smooth performance. Without DLSS 3, we'd have to lower ray tracing or adjust other settings to achieve better results, so this is certainly a much more preferable option. Reflex kept the game feeling nice and responsive.
DLSS 3: Flight Simulator 2020
Microsoft Flight Simulator 2020 is a notoriously difficult game to max out thanks to its beautifully expansive open world. It's a highly CPU bottlenecked game, making a perfect pairing with DLSS 3.
Brad Chacos
The results here are nothing short of impressive. With the desktop RTX 4090 and a Ryzen 9 5900X processor, 4K native hits a playable 65 FPS—a standard result for this heavily CPU-bottlenecked game. Turning on Frame Generation and bypassing that bottleneck brings us to 122 FPS, almost doubling the visual smoothness by blowing past the bottleneck with AI frames. Nvidia Reflex helps to keep the latency in check, and this is a game generally well suited to DLSS 3 improvements. 
This title also has numerous detailed UI and in-cabin graphics that have to be generated properly, so it's a great test of how DLSS 3 can render minute details in sharp clarity. While it's not always perfect, the boost in FPS and bypassing CPU bottlenecks are more than a win here. 
DLSS 3: Final thoughts 
Nvidia's DLSS 3 combines the great benefits of DLSS, along with Frame Generation and Nvidia Reflex. While support is still limited to select games and hardware, and there are sometimes niggling artifacting and text issues, it's extraordinarily promising. By allowing GPUs to stretch their legs well beyond traditional hardware limits, we can experience higher and better frontiers in games as developers take advantage of the technology. 
Sure, you're getting some more latency, but Nvidia Reflex does a good job at keeping it under control. Often, it makes DLSS 3 games even more responsive than running at native resolution. While you're not likely to want to play Counter-Strike or the like with it on, DLSS 3 is a huge boost to games such as Cyberpunk 2077.
With everything running well, DLSS 3 feels like black magic. Games shouldn't run this good or look this smooth. If your PC supports it, we highly recommend checking it out.