Tech billionaire Scott Farquhar buys $10.85 million digs on Central Coast beachfront
Tech billionaire Scott Farquhar and his wife, investment banker Kim Jackson are known for having a somewhat low-key approach to their discretionary property purchases – at least among Australia's billionaire class.
That said, the couple's principal property investment is the $71 million Elaine estate in Point Piper (a doer-upperer at that), so it's all relative.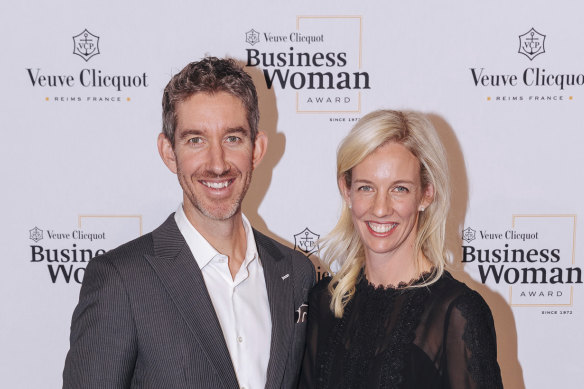 But as Gina Rinehart stakes her claim to Noosa, Andrew "Twiggy" Forrest to the late Olivia Newton-John's Gaia Retreat in Byron Bay, and Mike Cannon-Brookes claims a good part of Palm Beach, the Southern Highlands and now Dunk Island, the Farquhar-Jackson family are doubling down on the Central Coast.
Records show the co-chief executive and co-founder of software giant Atlassian has set a record for Avoca Beach of $10.85 million, which in billionaire terms could be seen as a bargain, given it was discounted from an original guide of $13 million in February.
Local values have come a long way since Farquhar first bought into the market in 2010. At the time the then 30-year-old, who was living in a two-bedroom apartment in Pyrmont, bought an architect-designed house with five bedrooms on 556 square metres for $3.57 million.
Fast-forward to 2022 and the couple's new digs – a kicked-football distance away – is another designer home with the same number of bedrooms and on the same land size, but for the marked-up price of 200 per cent more.
Loading
Not that rising values are an issue. Farquhar ranked fourth of this year's AFR Rich List 200, worth an estimated $26.4 billion, and his wealth has only improved since: the share price in the Nasdaq-listed Atlassian has soared 56 per cent to $US279.35 in the six weeks since he exchanged on the beachfront digs.
Faring less well in the Central Coast market, of late, are the receivers for alleged fraudster Bill Papas, who recently sold the Forum Finance director's second luxury holiday home at nearby Wagstaffe.
No doubt inspired by the bullish $16.2 million sale of Papas's weekender next door at the peak of the market in February, the holiday home was given a guide of $10 million by Belle Property's Cathy Baker.
But four months is a long time in a turning market and the June sale has settled at $8.5 million to Balmain-based Murray Hunter, the founder of industrial design company Design + Industry.
Fordham's handsome upgrade
Celebrity agent Nick Fordham has listed his Surry Hills penthouse atop the historic converted warehouse Hutch & Hutch following his recent purchase in Woollahra.
Fordham, a brother to 2GB's Ben Fordham, owns the whole top floor of the SJB-designed block, having consolidated his $3.6 million digs of 2016 with a one-bedder bought for $1 million to create a four-bedroom spread that has a private rooftop garden with a heated spa, koi pond and outdoor shower.
A $7 million guide and September 10 auction has been set by PPD's Alexander Phillips, who sold Fordham the historic Spicer House in Woollahra in June for almost $15 million.
Spicer House is the 1886-built residence set next door to Fordham's mum Veronica, and until recently owned by former PWC partner Greg Hall and his wife Jody.