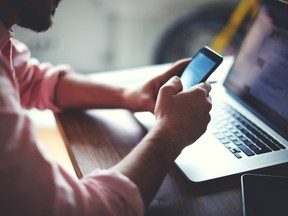 An Edmonton-based startup that provides digital infrastructure for the food and beverage industry is poised for growth after securing $2.3 million in seed funding.
On Tuesday, Accelerate Fund III, which co-invests in early-stage Alberta startups, said it led the funding round for Truffle Systems along with Edmonton venture capital firm Sprout.vc and Birchcliff Partners.
Truffle provides a digital platform that allows restaurants and the like to automate their operations from the back of the house to the front, founder and CEO Omer Chaudhary said, including online or in-house customer orders as well as contactless pick up and delivery. 
The windfall will enable strategic growth, Chaudhary added, allowing the company of 25 people to add eight to 10 more positions including two management roles as it prepares for another round of funding in the next 12 to 18 months.
"It also allows us to deploy marketing dollars to get the word out to more restaurants and food and beverage organizations," he said.
After launching in February 2020, shortly before the onset of the COVID-19 pandemic that led to government restrictions on dine-in services, the company signed on 200 subscribers in its first year and now has about 600, Chaudhary said. Truffle's website details customer case studies for local eateries including Northern Chicken and Mikado Sushi and Robata.
"We quickly realized that the entire digitization of the industry happened overnight, where restaurants could no longer rely on just brick and mortar business," Chaudhary said. "They needed to be more flexible. Technology plays a huge part in that, and we had just built the entire platform that can do exactly what they needed."
In a Tuesday news release, Accelerate Fund III highlighted a growing demand for online food orders in response to the pandemic, and the reliance on third-party delivery services such as UberEats, Skip the Dishes and DoorDash. Some of those services have reportedly charged up to 30 per cent commission. 
Chaudhary said Truffle allows diners to place orders directly through subscribing restaurants, eliminating those fees while also allowing restaurants to fulfill deliveries either through their own drivers or by sharing drivers with other subscribers on the platform.
Moreover, Truffle allows restaurants to close a gap created by other delivery services by giving subscribers ownership over their customer data, he added.
"They can market to them, they can send out promos, find out what their buying habits are and really cater to their customer base," Chaudhary said.
While Edmonton enterprises initially formed the core of Truffle's business before it expanded throughout Alberta, Chaudhary said, the platform now has subscribers across Canada including businesses in B.C., Ontario and Saskatchewan.
In a statement Tuesday, Arden Tse, investment manager for Accelerate Fund III, said that as a former restaurant owner, he sees Truffle providing unique solutions as a point of sale system.
"We see Truffle playing a huge role in the transformation of restaurants underway, connecting customers directly with kitchens, and using technology to give fewer staff the capacity to do more as the labour shortage grows tighter over time," Tse said in the release.
Edmonton Journal Headline News
Sign up to receive daily headline news from the Edmonton Journal, a division of Postmedia Network Inc.
By clicking on the sign up button you consent to receive the above newsletter from Postmedia Network Inc. You may unsubscribe any time by clicking on the unsubscribe link at the bottom of our emails. Postmedia Network Inc. | 365 Bloor Street East, Toronto, Ontario, M4W 3L4 | 416-383-2300