Kelsey Knipple's research identified that police were not necessarily equipped with the proper education to deal with challenging and potentially dangerous mental health crises.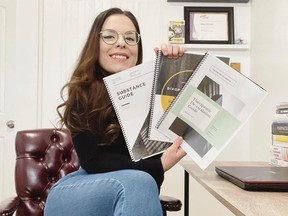 The Regina Police Service will use research conducted by a psychiatric nursing student at Saskatchewan Polytechnic in training next year for scenarios where de-escalation techniques are needed when responding to people in crisis from mental illness or addiction.
The research, conducted by Kelsey Knipple, involved interviewing 44 officers within the RPS and yielded three manuals for officers to reference while on duty, involving therapeutic de-escalation, a substance use guide and a summary of diagnostic criteria for certain mental disorders.
"For a lay person that doesn't really know anything about the diagnostic or statistical manual that professionals use to diagnose people, a lot of these mental disorders that you could see in the community could look very similar," Knipple said. "So for them, it was hard for them to even know what was going on with the people they were interacting with."
Officers struggled with distinguishing what might be a mental health issue or a drug-induced psychosis, which then made it difficult to decide which kind of support or service was needed, Knipple said. Responses from officers also indicated more resources were needed when responding to calls.
"As far as dealing with someone's mental health problems, they lack the training to know how to assess properly and they really would've liked to see more support as far as mental health resources working along side police," Knipple, who now works for Mobile Crisis Services in Regina, said. "They would love to have psychiatric nurses working along side them because we are very highly trained in those areas."
Knipple's research project, Policing Mental Health: A Psychiatric Nursing Perspective in Crisis Intervention, was conducted during her final year in the program and the manuals found their way into the hands of the Police and Crisis Team (PACT) at RPS by January.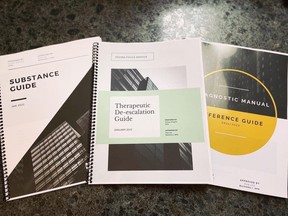 PACT is a team comprised of two officers and two social workers, overseen by Sgt. Sheri Wild, and responds to calls where de-escalation or other assistance is required with a person in crisis or presenting possible mental health or addiction issues.
"It's a much quicker, easier read than any other information that we could solicit through mental health services," Wild said of Knipple's work.
Wild said the manuals are already in use by PACT and have been sent out to all employees of RPS. Some of the information provided by Knipple about de-escalation and communication will be used further during training scenarios next year, according to Wild.
PACT, which was established in 2015, has seen an increasing workload over the last several years — double the work in some areas — but the team has stayed the same size since 2017, Wild said. The information provided by Knipple's research is what officers were asking for, she added. Wild said mental health is a common underlying factor in many other calls to RPS and is underestimated in statistics.
"We have mental health training but some of the things we see in the community change," Wild said. "Some of the substance use that we're seeing and psychosis from methamphetamine is more predominant than it was 10 years ago. This is a refresher to get the training and information up to current standards."
The news seems to be flying at us faster all the time. From COVID-19 updates to politics and crime and everything in between, it can be hard to keep up. With that in mind, the Regina Leader-Post has created an Afternoon Headlines newsletter that can be delivered daily to your inbox to help make sure you are up to date with the most vital news of the day. Click here to subscribe. 
Regina Leader Post Headline News
Sign up to receive daily headline news from Regina Leader-Post, a division of Postmedia Network Inc.
By clicking on the sign up button you consent to receive the above newsletter from Postmedia Network Inc. You may unsubscribe any time by clicking on the unsubscribe link at the bottom of our emails. Postmedia Network Inc. | 365 Bloor Street East, Toronto, Ontario, M4W 3L4 | 416-383-2300