Dynamic Business's Tech Tuesdays column is dedicated to the businesses and products that have made great contributions to the tech industry, are pushing the boundaries of technology, and are redefining the future.
With technology's ever-increasing presence in our lives and businesses across all industries becoming digital, there is a steady demand for IT skills. The task now is to close the skill gap and make it possible for people from lower socioeconomic backgrounds who lack higher education to compete.
We've gathered a list of low-code solutions that can be game changers for developers and organisations that now need to spend less time on time-consuming manual coding processes, more time-solving business challenges, and provide faster answers for this week's edition.
SnapLogic
SnapLogic is a low/no-code platform designed to help transform businesses from the inside out while driving operational efficiencies at scale. As a self-service, easy-to-use integration platform, SnapLogic allows non-technical departments such as marketing, HR, finance and business development to quickly and easily integrate systems and automate processes without relying on IT. As Gartner notes, citizen integrators can help organisations democratise IT, take the load off of busy IT teams, scale technology capability across the enterprise and speed up business outcomes. 
SnapLogic is helping to pioneer a simpler journey to digital transformation for companies around the globe, regardless of their technical acumen, with this game-changing low/no-code integration solution. "Fast, agile organisations understand that integrating disparate systems and automating core processes are critical to accelerating business growth and success. This was true before the pandemic but is even more so now. The market for application and data integration continues to evolve and grow — Gartner has projected that the iPaaS market will grow to over $5.6 billion by 2024," says SnapLogic VP of Products Mark Gibbs.
Kissflow
Kissflow is a unified work platform for enterprises to fast-track digital transformation. The platform combines the entire work management spectrum into a unified experience for enterprise-wide users by embracing the low-code/no-code paradigm. Whether it is automating processes, digitizing your operations, managing requests, or building custom applications, with Kissflow you can do it all within an integrated platform. Business users can take control of their digital needs while IT leaders can continue providing a secure and scalable platform for digital growth.
Hundreds of global and Fortune 500 brands such as Airbus, Pepsi, McDermott, Comcast and Danone rely on Kissflow to simplify and optimize their work. Kissflow has been featured and recognised as an industry leader by Gartner, Forrester and G2.
More here.
Smartsheet
Smartsheet is the no-code work management platform that enables your team to innovate without bounds and truly deliver business value. No-code is the software revolution sweeping through today's tech-driven world, empowering anyone to create advanced applications without needing to write a single line of code. The keys to scaling and innovation used to sit primarily with software developers, but now, they are universally held by those with a pulse on the business: the workforce. 
From simple tasks to complex projects, Smartsheet's no-code solution accelerates modern business innovation by connecting teams, automating workflows and unifying activities for faster time-to-value and team efficiency. One such solution is Smartsheet's WorkApps, which lets you create easy-to-navigate web and mobile applications in minutes without the need for coding expertise. 
Companies like Uber showcase how no-code can be leveraged to save time and streamline communications. Uber used WorkApps to solve workflow inefficiencies for teams within the performance marketing group, saving 1,000 staff hours on planning and increasing customer lifecycle development by 40-45%.
Servicely  
Servicely is an AI-Powered low code platform with an embedded self-learning AI capability that observes and learns how work is done to be able to augment staff and automate work in machine time across the enterprise. Servicely's low-code platforms enable customers to rapidly turn manual processes and workflows into digitally transformed automated workflows using a single system of record to capture and track work across the enterprise.  The Servicely self-service portal functionality includes an intelligent virtual agent to help solve issues and requests instantly and autonomously using the latest natural language understanding technologies.
An application example for service desks and call centres is the ramp time for new agents to come up to speed and be proficient in handling calls. The Servicely platform learns from the best agents how tasks are handled to provide augmented assistance to newer agents on how to deal with calls. Over time Servicely gets smarter and can automate diagnostics in machine time, reducing call handle times by over 50 per cent.
The product was launched in August 2021.
More here.
SYSPRO
Low-code/no-code tools are designed to make it easy for non-technical people to design, build, and launch applications quickly.
Manufacturers can use low code supported platforms to address internal business challenges such as changing a business process, the improvement of operations across the shopfloor, and enhancing supply chain efficiencies.
It is vital that low code tools can connect with a system such as SYSPRO Cloud ERP (Enterprise Resource Planning) software. It is a functionally-rich cloud ERP system that provides a scalable and adaptable business solution. It can be securely accessed via a web browser on any device, from anywhere.
Specialising in the Manufacturing and Distribution sectors, SYSPRO ERP (https://au.syspro.com/) helps to manage data and gain business insights by providing a full view of all business activities, including financial, warehouse and inventory management, across the supply chain and business operations. Manufacturers can also make decisions based on real-time data and improve customer satisfaction due to improved productivity.
A product video can be found at https://www.youtube.com/watch?v=_xDnAwleGgQ.
PRIME BPM 
PRIME BPM is a powerful cloud-based, low-code, no-code Business Process Management Platform designed to meet the requirements of both—business users and business process experts. The plug-and-play software comes with an inbuilt methodology to empower organisations to easily and accurately map, analyse, improve and automate their business processes. Combining the power of methodologies, including BPM, Lean, Six Sigma, and Value Stream Mapping, the intuitive platform helps organisations derive the maximum output from their improvement journey. 
The software comes packed with best-in-class functionalities, including process prioritisation as per criticality; automatic insights on process efficiency, cost and value; and inbuilt governance, risk and compliance module. It also helps organisations simulate scenarios to understand the potential cost savings of the improvements. 
"At PRIME BPM, we believe in not just providing software but are committed to ensuring BPM success. We work closely with our customers to understand their pain points and create a bespoke journey to help them achieve their business milestones and put them on a growth path," says Mark Khabe, Co-Founder, PRIME BPM. 
More here.
monday.com's Work Operating System (Work OS) enables the technical and non-technical workforce to meet business goals and objectives by using no-code, low-code technologies. This approach helps departments from sales, creativity and marketing through to HR focus on high-value work, giving employees the independence to build apps that improve overall business results. 
A robust, scalable foundation that you can build on to create your ideal workflows, no-code, low-code gives power to the people by democratising the software's capabilities. As organisations search for unique ways to help employees step outside their comfort zones into new technology territories, monday.com's no-code, the low-code platform provides the entire workforce with access to applications, forms and integrations through a robust low-code framework. 
Through this model, employees are empowered to create new unique applications designed to solve the toughest of business challenges while automating core business tasks that boost profitability.  
The monday.com No-Code, Low-Code Work OS platform is available via https://monday.com.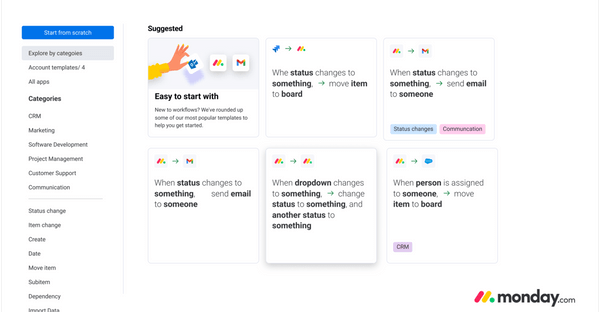 Asana Flow & Asana Rules
Asana is a leading work management platform that's pioneering the future of work. More than 126,000 paying customers and millions of free organisations across 190 countries use Asana to orchestrate their work, from small projects to strategic initiatives. 
Earlier this year, Asana launched Asana Flow, a new suite of offerings democratising the ability to build end-to-end workflows in just a few clicks – no coding required. Powered by the Asana Work Graph's unique ability to capture how work fits together up, down and across an organisation, Workflow Builder enables customers to build and automate connected processes, giving teams real-time visibility and improving cross-functional collaboration. With Template Library, teams can leverage best practices, including creative production and product launch templates, inspired by the world's most innovative companies using Asana.
And with Rules, teams can quickly streamline processes and automate routine tasks, freeing them up to focus on the most critical, high-impact work. In fact, teams using Asana report Rules save everyone more than 70 manual steps per week.
GitHub Copilot
Dedicated no-code tools typically make it easy to get started with coding, but you quickly hit the ceiling when doing more advanced tasks. GitHub Copilot – an AI pair programmer that helps you write code faster and with less work – removes the entry point into normal programming, but there is no ceiling: you are working with the same powerful tools as the experts. We believe that GitHub Copilot has the potential to lower barriers to entry, enabling more people to explore software development and join the next generation of developers.
In a survey distributed to 17K developers during GitHub Copilot's technical preview, over 75% self-reported that when using Copilot, they spend less mental effort on repetitive programming tasks, focus on more satisfying work, and stay in the flow.
Ultimately, Copilot takes the 'boring' out of coding – learners can focus on timeless concepts instead of struggling to learn the details of today's APIs. The work can now focus on the truly creative parts of the job. Programming is now about design – decomposing a large problem into smaller ones – and then specifying what the smaller blocks should do. The AI will fill in the details. It's so exciting to imagine all the amazing apps that the next generation will build, powered by unbridled human creativity, and aided by AI. A career in coding has never looked so bright!
Unit4 
"Enterprise resource planning (ERP) is one of the most useful workflow platforms for businesses today. In the wake of a potentially looming recession, where businesses across all industries are trying to cut costs and do more with less, ERP helps organisations increase productivity and generates cost savings. 
"Unit4's state-of-the-art cloud platform, ERPx, brings together the capabilities of Financials, Procurement, Project Management, HR and FP&A onto a unified cloud platform that shares real-time information and is designed with a powerful, people-centric approach, so employees can benefit from the better insight and become more effective and increasingly engaged. Not only does it support rapid and continuous change while delivering an individualised fit for customers at scale, but it also delivers the right tools to unify the processes across your organisation and connect your people. We've also recently acquired Scanmarket, our new Procure to Pay solution that helps ensure companies are getting the most out of their supplier relationships.
"By implementing ERP into your business, employees can optimise workforce efforts effectively, increasing productivity, execute informed business decisions through data-driven insights and ultimately save your organisation valuable time and resources."
Zoho Creator
Zoho Creator is an all-in-one solution that bridges the gap between business users and IT teams by providing a low-code solution-building experience regardless of technical know-how. Organisations currently face a soaring need for new software, but global inflation and local interest rates and a cost-of-living squeeze are putting pressure on business budgets. However, Zoho Creator provides an affordable, accessible option for businesses, departments and users with little or no coding skills to create, deploy and scale powerful, custom-built solutions with ease.
Addressing the needs of both business users and IT teams, Zoho Creator Platform supports all levels to build, manage, integrate, and analyse for a complete low-code experience, enabling 10X faster deployment than any other solution on the market. 
Democratising access to low-code development tools allows IT and business users to work in tandem to create and deploy apps that are highly customised while minimising common interoperability, permissions, and governance challenges. Zoho Creator's intuitive drag-and-drop user interface incorporates cutting-edge Artificial Intelligence (AI) and Business Intelligence (BI) and has already helped six million users build seven million apps worldwide. 
For more information, visit Zoho Creator.
Keep up to date with our stories on LinkedIn, Twitter, Facebook and Instagram.