The Lamborghini Huracán Technica is a celebration of driving, but not the type of driving most enthusiasts generally associate with the supercar brand. This is a car that is not designed exclusively for the track, or one that is best sitting in traffic in Los Angeles.
Lamborghini's new, quick coupe is a blend of all things the Santa'Agata, Italy-based brand is good at, while accelerating the design story of Huracán.
Its looks are more muscular and refined than those of other Huracáns. Lightweighting, combined with sleek design choices give the front a more sculpted look while bolder shoulders project strength alongside optimized aerodynamics.
The car's refined 5.2-liter V10 engine is the stuff that makes hair grow on chests. Not only does it sound sublime, its 631 horsepower and 417 pound-feet of torque are eagerly applied, but measured in fashion.
The new Huracán Technica delivers on driving fun, performance and lifestyle in equal parts. A big part of that is down to its honed driving dynamics, which allow for a good thrashing on mountain roads but doesn't lose a step while towing the line in traffic on the highway.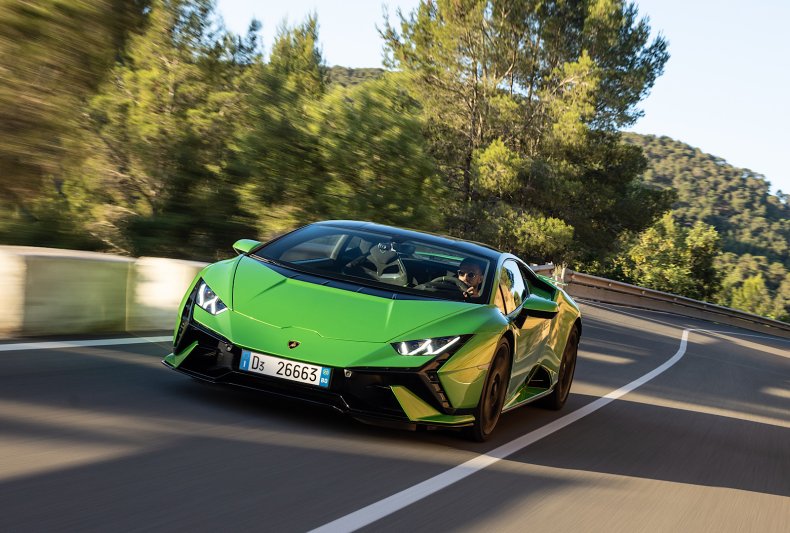 If there is a stumbling block here, it's while driving the car on those mountain roads where slowing around corners, then accelerating out and up in elevation. At these points, at speeds less than 30 mph, the car's seven-speed dual-clutch automatic transmission funbles when in automatic mode. Switching to paddle shifters eliminates the issue.
On the track, the Huracán Technica takes the prowess of the Huracán STO but makes it more palatable. The car is more planted, which lends itself to better agility and an absolute willingness to be pushed to its limits without putting up any fuss.
Huracán Technica rides more smoothly over harsh roadways.
The Huracán STO isn't as wobbly at higher track speeds as the Huracán Technica, but only the absolute highest-performance stickler will likely notice.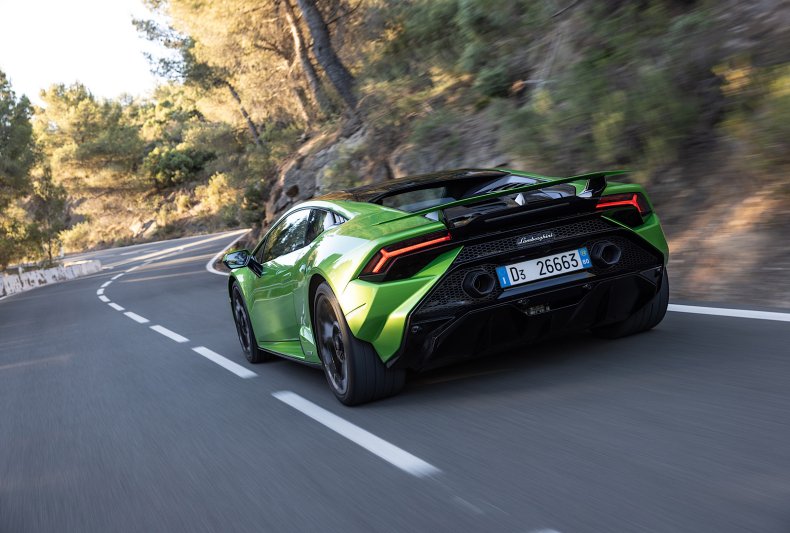 Any preconceived notions about the comfort of supercar seating and the lack of technology are put at bay by any time behind the wheel of the Huracán Technica. The sporty seats are far more comfortable than anything in a true BMW M car. Bolstering holds a driver and passenger in place without feeling the typical performance car squish. There's enough firm padding for the posterior to rest on that grand touring in the model is more appealing than not.
Infotainment duties are handed easily by the car's touch screen, located in the center console. There's no head up display, but Google Maps navigation is easily followed via the screen while Apple CarPlay and Android Auto are hubs for entertainment.
Like most performance cars, the Lamborghini isn't chalked full of safety features or driver assist technology. That's not a miss. That's a pure driver's experience.
Lamborghini hasn't lost any magic making the Huracán Technica more comfortable and convenient for daily drivers. It is as at home on the highway as it is in city traffic, riding along mountain ridges, and on the circuits of the world. That's a magic blend in and of itself.