"A lot of these founders and companies are extremely good businesses. But the metrics [that] founders have enjoyed we won't see again for quite a while, if ever," Mr Ferris said.
"It's a reality bite. Founders will have to face the reality of down rounds, and that cash will be king, and that's not a bad thing."
"If you're raising new money as a scale-up, and have strong general partners with dry powder in their funds, those companies will still do well, but valuations need to be realistic, and founder expectations of how much cash will be thrown at very early ideas, needs to be priced accordingly," he said.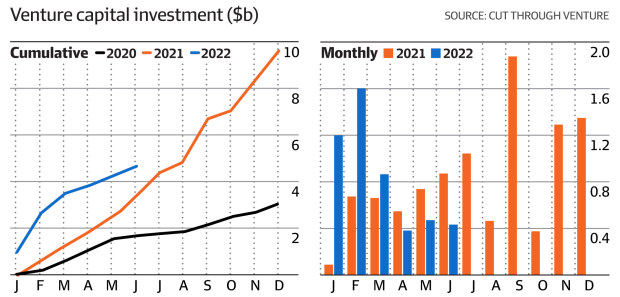 A former innovation czar under the Turnbull government, Mr Ferris has a long history in the sector, having started Australia's first venture capital fund in 1970, and co-founding Australian Mezzanine Investments in 1987 and CHAMP private equity (now CPE Capital) in 2000. Since 2020, he has been chairman of Brandon BioCatalyst (formerly named the Medical Research Commercialisation Fund).
Valuation adjustments
The Australian Prudential Regulation Authority (APRA), in a review last year, found that unlisted revaluation frameworks used by superannuation funds were inadequate. Mr Ferris said this would force VC funds – which count a growing group of super funds as limited partners – to rethink how, and how often, they revalue portfolio companies.
"You can't blame the managers really, they've followed global practice, but now when the music stops they'll need to show leadership. You can't just carry the last high price, you have to look at comps, at cash flow and all those things we used to use," Mr Ferris said.
"I grew up in VC, and we valued something at cost, or market, whichever was lower. That was the rule. You measured your gains by exits, not internal rates of return, and that comes into even greater focus when there will be down rounds."
Most venture capital funds only adjust the valuation of a portfolio company when there has been a new round led by a credible third-party investor, or there is a particularly material event.
But some US-based crossover funds have already started marking down portfolio company valuations, including Franklin Templeton and T Rowe Price, which materially lowered the value of their Canva investments in some funds.
Former Hostplus head of private equity and venture capital, Neil Stanford, was confident Australian VCs had been conservative in marking up valuations, and this would limit any major writedowns.
"On the whole, managers are slow to write up valuations. Likewise, there can be a delay in writedowns. People talk about the lag time for venture and private equity, but they never value things to the same extremes as public markets," he said.
"PE and venture investing have a stabilising effect on diversified member investment choice options. In typical balanced funds, we had a decent allocation to the asset class, and it smoothed out extremes in volatility, especially in the early stages of COVID.
"I know many super funds have given [the APRA review] a lot of thought, but I've seen two sides of the equation … and I don't think [the industry] has landed on a position yet."
Mr Stanford left Hostplus in late December to start fund manager V-Ignite, which was selected to run the new Victorian Start-up Capital Fund.
'Professional partners in the space'
Although Mr Ferris tipped major changes would play out in venture capital, he was confident the local ecosystem was sufficiently mature to withstand the crash.
He also believed that superannuation funds would continue their investment in the asset class, despite the rotation out of tech in public markets.
"The big difference in Australia this time is we do have, thank god, a much broader and more sophisticated ecosystem of start-ups and scale-ups, the like of which we've never seen in my lifetime, other than in the last five to 10 years," Mr Ferris said.
"Primarily, unlisted companies are being run very well, and we have very professional general partners in the space.
"The reality of climate change and the imperative for smarter, renewable energy creation, battery storage … [and the need for] health sector and defence [innovation], is not going away, and we must not let it. There are enough big picture issues that are really great for start-ups."