An MP, an MNA and the group TechnoparcOiseaux were outraged to hear the airport mowed down a green space used by various species, including the monarch butterfly.
Author of the article:

La Presse Canadienne
Frédéric Lacroix-Couture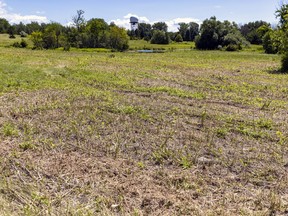 Two Montreal politicians — an MP and an MNA — are calling on the federal government to preserve a large green space leased and managed for many years by Montreal's airport authority after thousands of plants were razed in mid-June, according to the group TechnoparcOiseaux.
Liberal MNA Marwah Rizqy, who represents the St-Laurent riding, and federal NDP MP Alexandre Boulerice (Rosemont—La Petite-Patrie) joined the group Tuesday in demanding the lease between Aéroports de Montréal and Transport Canada be modified to protect the space, or a federal park be created to protect the 200-hectare ecosystem north of Montreal-Trudeau International Airport. It's a green space the size of Mount Royal, Rizqy noted, and one of the few remaining green spaces on the island.
Boulerice said the fact that the space is leased should not be a pretext for the Trudeau government "to wash its hands of Aéroports de Montréal's actions." He said the government must "tighten the screws" on ADM.
"Biodiversity is not just something that happens in the Amazon or sub-Saharan Africa — it's also in our backyard."
Rizqy suggested the space would be an "appropriate" one for the government to fulfil its promise to create an urban national park in each province and territory.
"If nothing is done, we will miss this chance," Rizqy said.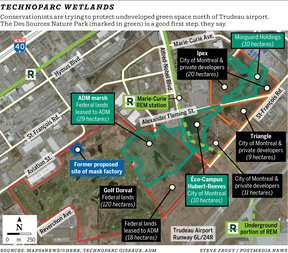 ADM recently did work on some of its lands, left fallow since 2012. The move angered TechnoparcOiseaux, saying flowers, shrubs and plants were destroyed in the middle of nesting season, which could harm, among other species, the monarch butterfly.
"We also found dead birds on the ground," said group spokesperson Benoit Gravel.
ADM admitted this week to mowing the field, suggesting it was normal maintenance.
Federal Transport Minister Omar Alghabra "has already written directly to the CEO of ADM to express his preoccupations, request details on the next steps in this file and reiterate the urgency of the situation," his office said. The lease gives ADM freedom of decisions on the lands, but also includes requirements for environmental protection, it added, and the ministry is following up weekly with ADM on this file.
The lands already include a nature park, created by ADM in the fall. "It's a good start, but we reiterate that ADM must do more," Alghabra's office said.
In January, a plan to build a mask factory on the so-called "Monarch Fields" was abandoned after pressure from environmental groups.
This story was produced with the financial assistance of the Meta and Canadian Press News Fellowship.
Montreal Gazette Headline News
Sign up to receive daily headline news from the Montreal Gazette, a division of Postmedia Network Inc.
By clicking on the sign up button you consent to receive the above newsletter from Postmedia Network Inc. You may unsubscribe any time by clicking on the unsubscribe link at the bottom of our emails. Postmedia Network Inc. | 365 Bloor Street East, Toronto, Ontario, M4W 3L4 | 416-383-2300