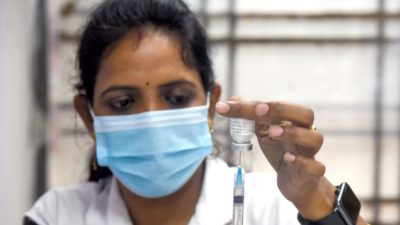 HYDERABAD: The Centre for Cellular and Molecular Biology (CCMB) has developed India's first indigenous mRNA vaccine technology for Covid-19. The vaccine technology, which is 90% effective against Covid-19 in the mouse model, can also be used to fight other infectious diseases like malaria, dengue and tuberculosis once the pandemic ends.

The new mRNA vaccine candidate is at a pre-clinical study stage where the efficacy of the technology will be tested against the live novel coronavirus infection.

Though there are mRNA (messenger RNA) vaccines developed by Pfizer and Moderna to prevent Covid-19, the CCMB's mRNA vaccine technology is fully indigenous and was developed without any external scientific assistance. Also, it is different from the technology used in the mRNA vaccine by a Pune-based pharmaceutical firm currently under clinical trials in the country.

"The team at the Atal Incubation Centre attached to the CCMB led the development of the vaccine candidate within a year of the project inception," said Dr Vinay Nandicoori, director of the CCMB.

Asked whether CCMB's mRNA vaccine technology would be redundant once the pandemic ends, Dr Vinay said vaccine platform can also be utilised for prevention of several infections in the country.


FOLLOW US ON SOCIAL MEDIA