Google has laid out its vision for "ambient computing" in upcoming consumer products at its annual I/O conference overnight, as well as unveiling new smartphones and earbuds alongside its first-ever watch.
With the new hardware combined with upgrades to the company's Search offering, voice assistant and Android software, Google's head of devices and services, Rick Osterloh, said the company's goal was to provide help to its customers whenever they needed it, without them needing to focus on a specific gadget.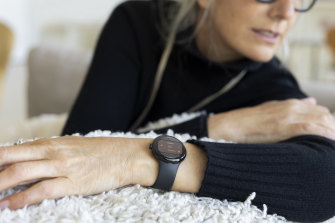 "In a multi-device world, people don't want to spend their life fussing with technology. An ambient approach gets the tech out of your way," he said.
"It doesn't matter what device you're using, or what context you're in, or whether you're typing or talking or tapping, the technology in your life should just work together seamlessly."
Innovations in privacy and security have allowed Google to create new, personalised cross-device experiences, he said, including between phones, smart home devices, tablets, wearables and displays.
Loading
"We're working toward a world where the front door knows when to lock itself, and your devices know whether to send an incoming call to your phone, your earbuds or your watch. Your TV will pause itself when you get up to grab a snack."
Those privacy innovations included the ability for more data to be processed on devices rather than being sent to the cloud, and more complex anonymization of data that does need to be uploaded.
Specific examples shown at the conference include an upgrade to the Nest Hub Max smart display that lets it recognise you're talking to it by analysing your gaze direction and other data, so you don't have to say "Hey Google".
Though to make use of it, users will need to opt in and give the device permission to both listen for them through microphones and look for them through a camera.
The company has also combined multiple types of information into its Search product, so users could point their phone camera at a pair of white shoes but specify they'd prefer them in blue, and get web results from retailers.
An update later this year is planned to also integrate location information, so this could be used for example to locate nearby restaurants that make a certain dish.
One demo of a technology still in development allows Search to continue running while a user scans their camera over a large area. The example shown had the user scanning a supermarket aisle full of chocolate blocks, as the app pointed out which ones were dark chocolate with no nuts.
The company also teased the idea of consumer smart glasses that would put its AI-powered insights directly in your field of vision.
A brief video showed a person speaking, with their words being transcribed and shown on the glasses in real time. The idea is to give people subtitles for real-world interactions, and could even translate between languages or caption sign language.
In terms of hardware that's a bit closer to market, Google unveiled the Pixel Watch, which is expected to launch in October.
It has a round, domed face with a rotating digital crown, and new software that combines WearOS features like smart home control, map directions and Google Assistant with Fitbit features like heart, exercise and sleep tracking. The company acquired Fitbit last year for around $3 billion.
The watch will launch alongside the Pixel 7 and Pixel 7 Pro smartphone, which Google only showed briefly and said would be powered by a next-generation Google-designed system-on-a-chip and feature triple rear cameras. An Android tablet powered by Google's Tensor chip is also coming, next year.
More imminent is the Pixel 6a, a version of last year's phone that packs the same processor and features a smaller body at a lower price. It's expected in July and will go for $749 in Australia.
Also coming in July is a pro model of the Pixel Buds earbuds, which have active noise cancellation and can pair with multiple Bluetooth devices at the same time to switch between them automatically. Google claims the buds have a maximum battery life of 11 hours before they need to be returned to the charging case, and that a five minute charge gives an hour of listening. In Australia, they'll go for $299.
Get news and reviews on technology, gadgets and gaming in our Technology newsletter every Friday. Sign up here.
Most Viewed in Technology
Loading