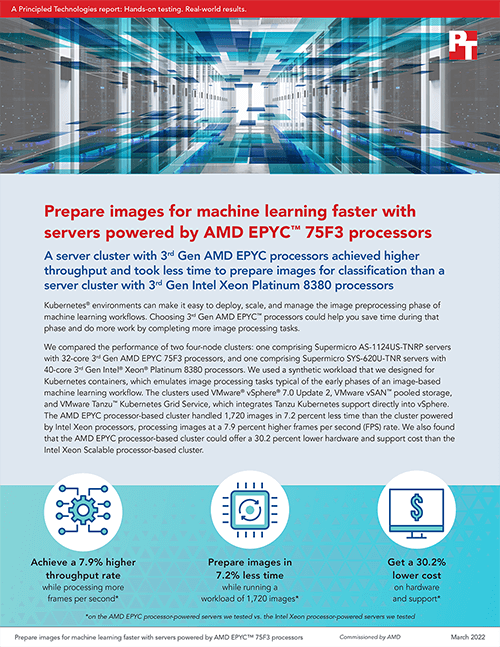 Durham, NC, March 07, 2022 –(PR.com)– For organizations that rely on machine learning to process images, saving time during any part of the workflow could translate to getting more done. During the preprocessing phase of the workflow, using Kubernetes environments can make it easy to deploy, scale, and manage image preparation for machine learning algorithms. In their new study, Principled Technologies (PT) found that a four-node cluster of 3rd Gen AMD EPYC 75F3 processor-based Supermicro AS-1124US-TNRP servers took 7.2 percent less time to preprocess a 1,720-image workload and achieved a 7.9 percent higher frames-per-second rate than a four-node cluster of Intel Xeon Platinum 8380 processor-based Supermicro SYS-620U-TNR servers.
According to the report, "This kind of performance shows that an organization using vSphere with Tanzu and vSAN to run their Kubernetes workloads could get better image processing performance with the servers powered by AMD EPYC 75F3 processors. Our price analysis also demonstrated that the hardware and support costs for the AMD EPYC 75F3 processor-powered Supermicro AS-1124US-TNRP server cluster was 30.2 less than the Intel Xeon Platinum 8380 processor-powered Supermicro SYS-620U-TNR server cluster."
To learn more, read the report at https://facts.pt/JQ4z3lH.
About Principled Technologies, Inc.

Principled Technologies, Inc. is the leading provider of technology marketing and learning & development services.
Principled Technologies, Inc. is located in Durham, North Carolina, USA. For more information, please visit www.principledtechnologies.com.
Principled Technologies, Inc.

Sharon Horton

828-455-0312

https://www.principledtechnologies.com/

Contact